We will post one time events or weekly programs for our community here.  If you would like to post a program or event that your company is hosting to this page, please contact us by phone, email or walk-in.
Weekly Programs
Join DQ on Family Night! Currently, every Wednesday from 5-7 pm. Free Kids' Meal with purchase of a DQ Combo Meal! There is also games and face painting!
Monthly Programs

Dine with a Doc  happens on the first Thursday of most months (there are a couple of months that they will not have it).  Here is a webpage that shows each month in 2017 and what they will be talking about:
Upcoming Events in the Community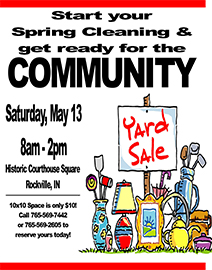 Start your Spring Cleaning & get ready for the COMMUNITY YARD SALE Saturday, May 13 from 8am - 2pm.
May 18th - "A Place Called Turkey Run"
We are so proud to call Parke County, Indiana home of Turkey Run State Park.  Here is an opportunity to learn more about our wonderful park.  Mark your calendars for this program.  
"A Place Called Turkey Run" will be the focus of the May meeting of the Friends of Turkey Run and Shades State Parks.   Written by Daniel P. Shepardson, this celebration of Indiana's Second State Park, in photographs and words, is an amazing compilation of beauty and science.  In each section:  Sandstone, Bluffs and Canyons, Flowing Water, Snow and Ice, Tall Trees, and Flowers, Ferns and Fungi; he describes the scientific factors that have shaped this particular part of Turkey Run and then illustrated the facts with stunning photographs.   The reader can see that Shepardson is an educator from the simple language he uses to explain complex facts relating to the evolution of Turkey Run's natural features.
Dr. Shepardson is a professor of geoenvironmental and science education at Purdue, holding appointments in both the Department of Curriculum and Instruction and in the Department of Earth, Atmospheric, and Planetary Sciences.  He is a nationally recognized nature photographer and author.  
 The Friends of Turkey Run and Shades are excited about this presentation and invite you to attend this program.  We will meet on
Thursday, May 18th
in the Dogwood Room of Turkey Run Inn at
7:00 p.m.
18th Annual Scholarship Scramble
is
Friday, May 19th
.  Early bird registration deadline is
April 15
.  Foursome is $500 includes golf cart, lunches, snacks & player gifts.  
https://www.ivytech.edu/golf/